COURSE Motivation
Leading and Motivating in the Hybrid Workplace
Leading and motivating in the hybrid workplace: Keys to Success
Created by
Garth Sheriff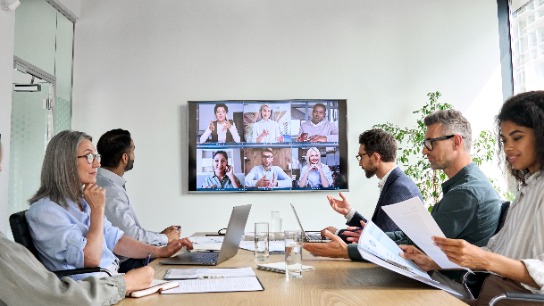 About this course
Successful leadership skills, for many, are a challenge to identify and demonstrate. Leadership has become even more challenging in the hybrid workplace as leaders attempt to manage teams and individuals that are remote working and in the office. This on-demand course will explore the challenges of leading and motivating in the hybrid workplace and provide critical tools and techniques to overcome these challenges.

The course will feature the expertise of Liz Lugt. Liz Lugt is a leadership consultant, speaker, facilitator, and coach. She founded Movation Leadership in 2010 to change the world of work by helping leaders become more effective, teams more cohesive, and employees more engaged. She is a qualified Chartered Accountant, a Five Behaviors™ and an Everything DiSC® Authorized Partner, and a member of the Professional Speaking Association, the Institute of Enterprise and Entrepreneurs, and Patrick Lencioni and The Tablegroup's CAPA Pro membership network.
What you will learn?
Defining the hybrid workplace
Identifying challenges to leading in the hybrid work environment
Applying solutions to help lead in the hybrid work environment
Identifying challenges to motivating in the hybrid work environment
Applying solutions to help motivate others in the hybrid work environment
Skills Covered
LEADERSHIP FUNDAMENTALS
TEAM LEADERSHIP
EMOTIONAL INTELLIGENCE
(HR) General
Certificate of completion
---
---
100% moneyback guarantee
If you cancel within 10 days and you're not completely satisfied, we'll give you all your money back. No questions asked.
Training 2 or more people?
Get your team access to 520 top ECE Learning courses anytime, anywhere.
LeadingMotivatingIntro.mp4
22m 36s
Module1.mp4
12m 38s
Module2Part1.mp4
19m 14s
Module2Part2.mp4
21m 5s
Module4PartB.mp4
16m 35s
Module3.mp4
8m 13s
Module4PartA.mp4
20m 4s
Conclusion.mp4
4m 41s
Learn from the best
I am the founder of Sheriff Consulting which specializes in the development and delivery of accounting, auditing and foundational skill courses and workshops. Teaching and working with professionals in diverse and dynamic learning environments has been my passion and experience for over 10 years. As a qualified Canadian Chartered Professional Accountant (CPA, CA) and U.S. Certified Public Accountant (CPA), I work with finance and accounting professionals in both the U.S. and Canada to meet their training and development needs. My goal has always been to create an engaging and interactive learning environment. To help my own path of continual improvement in achieving this goal, I have also received training and worked as a professional actor. I am a member of ACTRA (the Alliance of Canadian Cinema, Television and Radio Artists) and a graduate in improvisation from the Second City Training Centre. http://sheriffconsulting.com/